Welcome, Fáilte…
Newcastle, Clonmel, Tipperary Community website. This is a community run website and was created to help residents and visitors to find out more about the village of Newcastle, Tipperary. A listing of Community News & Events are published here for Newcastle and surrounding villages.
Newcastle Community Development Group was formed to support local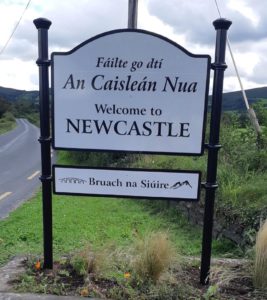 groups by helping with administration, organisation, event news, publicity and fund raising. We have a lot of local groups, organisations and associations in Newcastle like, Sports (GAA), Tidy Towns, Tig na nDaoine (community house), Newcastle Community Hall, Voluntary Housing Association, Comhaltas Ceoltóirí Éireann (Irish Music & Dance) and Newcastle Historical Society. Also Community Services, Facilities & Resources like, Community Alert, First Responders, Good Morning South Tipperary (Telephone Listening Service), Community Composting, Club 66, Newcastle Men's Shed, Suir Blueway, River Walks & Family Picnic Areas, Duck Pond & Reserve and lots more that are listed on this website, with news & events listed in the calendar or latest news page. Not forgetting the support we receive from Local Business. You can also find us on, Facebook, Twitter, Instagram and YouTube
"Our goal is to help promote all the great organisations, groups, clubs and community facilities that Newcastle & surrounding communities has to offer and list local news & events, not just for the locals but to the public in general."
As Gaeilge: This website is available 'As Gaeilge' just click on the orange button (bottom right) and select the Irish flag icon. You can change back to English.
---
Newcastle CFR Group (Cardiac First Responder)
Newcastle CFR is a group of 24 volunteers trained by the National Ambulance Service and is the only one of its kind in South Tipperary. The group was one of the first in Ireland to be affiliated under the National Ambulance Service.
Under the guidance and leadership of Mr. Donal Lonergan, Education Training and Competency officer with the National Ambulance Service the group respond to emergency calls received from the National Ambulance service from within their area. The group is trained in areas such as Cardio Pulmonary Resuscitation (CPR) , Chest Compressions, Automated External Defibrillator use (AED), Infection prevention and control and Critical Incident Stress Management.
The group has recently been awarded by the National Ambulance Service for its dedication to its community by continuing to offer their services to the National Ambulance Service during the Covid 19 pandemic.
How it works:
When someone dials 999 with their emergency, the National Ambulance Service dispatch the ambulance and immediately activate the CFR Group, the oncall responders arrive at the scene and carry out patient surveys and administer lifesaving therapies if required until the ambulance arrives, they remain on the scene to assist the ambulance service and the patients family until the patient is ready to be transported to hospital.
Funding:
The group has now proved how important it is to our community, the CFR can be on the scene within minutes of receiving the call and we have proved ourselves time after time in real life situations and WE HAVE SAVED LIVES in our community but we need your help !.
We rely entirely on the generosity of the public. We are very grateful for the money received in the past and put it to good use ensuring all AED batteries are changed , AED Pads are changed and all training equipment is up to date, we also have running costs such as Emergency telephone, insurance and radio licence, but in the past two years we have been unable to fundraise due to the pandemic, because of this our funds are seriously diminished, we would be very grateful if you could donate to our Go Fund me and ask friends and family to do the same, as little as €5 could do so much for us and allow us to be there, at your door for your family when that call comes in ………..
---
Latest News
---
Newcastle Clonmel Tipperary Community News & Events