The much anticipated Winter Wonderland at Kildanogue Duck Ponds (outside Goatenbridge in south Tipperary) will take place again on Friday 6th, Saturday 7th and Sunday 8th of December 2019. See booking links below.
Note: Child bookings are limited to 10 per booking, there is no limit on Adult bookings. If you wish to book in a large group use earlier or later time slots, as these book more slowly.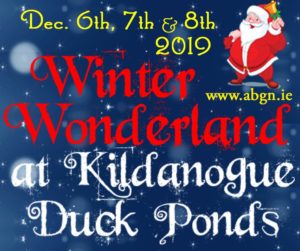 Online booking is now open – see booking links below.
Once you have booked you will receive a booking confirmation by email from wonderland@abgn.ie (please clear this address in your Spam Filter). you will receive a ticket/s by email from this address just before the event. If you do not receive your booking confirmation please email web@abgn.ie.
Parking for bus transfers will be in Goatenbridge (a small village in South Tipperary between Clogheen & Newcastle, don't worry, the location is here we'll send you directions before the event.) While there is no time limit on your stay at Winter Wonderland, times below are for Santa visits and to balance loads for bus transfers.
Apologies for the very long list below, Facebook isn't great with pasting weblinks.
Friday Dec 6th:
Saturday Dec 7th:
Sunday Dec 8th: