Following a meeting of the Newcastle Community Alert Committee, we have put a plan in place to offer support to the Older, and Vulnerable members of our community who have to self isolate in our areas.
This is a co-ordinated local response put in place to help those who are particularly vulnerable at this time. It is our community spirit that will see us through this unprecedented challenge in our country and it is only through all working togerther that our community will come through this time.
The aim of the phone line is to co-ordinate local volunteers with people in their areas who might require some assistance, ie. essential shopping items or prescriptions during the outbreak. If you want to get involved or want more information, drop me a message.
Should you or any Older person in the Community Require Support please contact Newcastle Community Alert at 089 2487104 from 9 am to 7.00 p.m. daily and we will endeavor to provide necessary support required.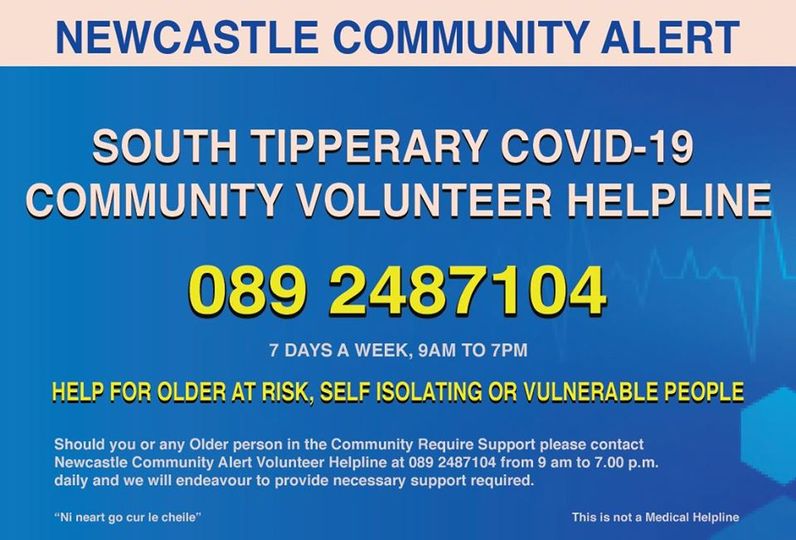 There are a number of other helplines providing support as follows,
ALONE (0818) 222024
THIRD AGE: (046) 955 7750
The Newcastle Helpline is not a medical helpline, medical information can be accessed through the following resources:
The HSE website is the main source of information. It has the most up-to-date information on the Coronavirus, and it is updated daily.
Visit www.hse.ie HSE National Helpline 1850 24 1850
HSE MID West Helpline : 1890 300046
• The Health Protection Surveillance Centre www.HPSC.ie has a helpful 'Frequently Asked Question' (FAQ) section, and it is also updated daily.
• Public health advice posters for the Coronavirus are available on www.gov.ie for download and display on your premises. Posters can be downloaded here.
• The current HSE advise is that practicing good hygiene is the best way to protect yourself from the Coronavirus:
• Wash your hands often with soap and water or use an alcohol based hand rub if hand washing facilities are not available.
• If you are coughing or sneezing, cover your mouth and nose with a tissue.
• Throw the used tissue away into a closed bin and wash your hands.

The HSE has also produced a short video on hand hygiene and the Coronavirus, it is available to view here. https://www.gov.ie/en/collection/ee0781-covid-19-posters-for-public-use/

The following websites contain useful information regarding the Covid-19 Virus.
https://www2.hse.ie/conditions/coronavirus/coronavirus.html

https://www.hpsc.ie/a-z/respiratory/coronavirus/novelcoronavirus/guidance/


The Department of Foreign Affairs website provides updated travel advice. If members of staff or volunteers from your organisation are intending on travel abroad in the coming weeks, it is recommended that they monitor this site closely to obtain the most up-to-date advice in relation to countries where non-essential travel is not recommended.
Other Numbers are as follows,
Emergency Services 999 or 112
St Vincent De Paul Clonmel Area Office, (052) 6123878
Department of Social Welfare (052) 6191800
Department of Social Welfare Cahir (052) 7445200
Garda Siochana Cahir (052) 7445630
Doctors Surgeries – Cahir (052) 7441364,
Ardfinnan (052) 7466134,
Newcastle, (052) 6136182
Clogheen (052) 7465315,
Ballymacarbry (052) 6136456.
Post Offices:
Ardfinnan (052) 7466201,
Newcastle, (052) 6136171.
Ballymacarbry (052) 6136101
Cahir, (052) 7441229
Clonmel (052) 6121164
Churches:
Ardfinnan Grange & Ballybacon (052) 7464408 / (086)2149678
Newcastle and Fourmilewater (052) 6136387 / (087) 1735178