New For 2021
The events now have their own domain at www.KnockMEDown.ie, please save the address. It leads to the events' own Facebook Page.

Because it was so popular in 2019, prizes for Male and Female over 60 age categories will be continued into 2021 (and beyond, we hope).

The Knock ME Down MÓR, as in previous years, will only have prizes for the top two Male and top two Female finishers.

The run section of the MÓR is slightly different this year, but don't worry, it's equally challenging. Details of the new route will be on the Information Page https://bit.ly/3pt5gxu once we've had a chance to get them on there.

This year the improved boarding and disembarking facilities for Kayaks at Baylough, is to be expanded even further, to accommodate a quicker throughput of participants. There will also be no double Kayaks in this year's event, they are all single sit-on Kayaks.

Over-the-head buoyancy aids on the lake section will be replaced by units that zip up the front. These are much easier to put on and it should prevent race numbers being dislodged during this process.

We will use a new timing system this year, no more need for dibbers, you'll be timed automatically using disposable electronic 'Timing Tags' contained in your Race Number. It will, therefore, be important to protect this number and make sure it is visible.

We are also expanding the participation numbers in the ultra-challenging event Knock ME Down MÓR. This event previewed in 2018, running again in 2019, as it proved immensely popular. The MÓR adds to the Challenge running and cycling routes bringing, the event to an exceptionally challenging 57km event.
Participants in the extended Knock ME Down MÓR course will start in 30 second individual time-slots prior to 10.30am. The Knock ME Down Challenge will also be set off in individual slots, starting at 11am, Tickets for both events are €80 each.

If participants wish to start together it is recommended to book later time slots in the Challenge or earlier time slots in the MÓR, as these book less quickly. If you think it will take you time to finish the course please try to take the earliest time slot you can get.

Once again, thank you so much for supporting all of our events and we look forward to seeing you at the start line on September 7th.

Regards,

The Knockmealdown Active Team.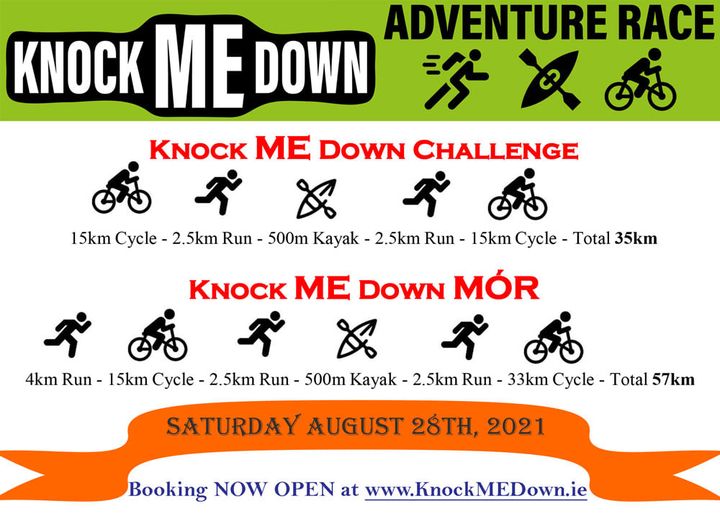 Keep up with Knockmealdown Active on Facebook – http://www.facebook.com/knockmealdown.