Welcome from Cathaoirleach Comhairle Chontae Lú & Mayor of Borough District of Drogheda
We are delighted to once again welcome to Drogheda and County Louth, Fleadh Cheoil na hÉireann. The Fleadh in 2018 was embraced by the people of Drogheda who gave a Cead Mile Fáilte to the many hundreds and thousands of visitors who travelled to the wee county from all corners of the country and indeed many parts of the world. We are all looking forward once again to celebrating Irish music and culture with an expected 8000 musicians at competitions and impromptu sessions at local venues and on our streets. Preparations are already under way with many of our local establishments once again making great efforts to add to the presentation of our town and surrounding area.
Like in 2018 the Fleadh in 2019 is for everyone young and old and this year's programme is sure to provide entertainment and delight whether it's a concert in the dome or a performance in one of the many magnificent buildings in Drogheda or indeed attending what is core to the Fleadh the competitions many of which again are been hosted by our local schools.
We as elected members look forward to welcoming you to County Louth and in particular the ancient and historic town of Drogheda.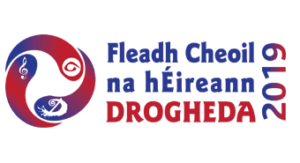 Ireland's Biggest Music Festival Returns to TV this August. An bhfuil tú réidh?
If you rolled Electric Picnic, Longitude and All Together Now together…you still wouldn't have Ireland's biggest music festival. That honour goes to Fleadh Cheoil which welcomes 500,000 music fans every year , and it keeps on growing! 2019 sees the Fleadh return to Drogheda for a second year. Similar to the BBC's Glastonbury coverage, TG4's flagship music programme FleadhTV provides an immersive experience of Fleadh Cheoil na hÉireann to audiences around the world. This high-quality production is brought to you by two time IFTA award winning company Gifted Empire Productions as they enter into their seventh year of making FleadhTV
Broadcast live over four evenings from Thursday August 15th to Sunday 18th,
FleadhTV is on air from 8.30pm until 11.30pm nightly on TG4 and will be available worldwide on the TG4 player, www.fleadhcheoil.ie and on www.fleadh.tv . FleadhTV airs for three hours of the best of Irish music. It's fresh, it's lively and most importantly it's pure entertainment.
The lineup for series seven of FleadhTV is shaping up to be one of the best yet. The production team pride themselves in bringing the very best to audience. Acts already confirmed include:
Hot House Flowers :: Frankie Gavin & The Provenance :: Horslips :: Kilfenora Céilí Band :: Lankum :: Zoe Conway with Dubliners legend John Sheahan :: The Stevie Dunne Band :: Altan :: Fidil :: Kate Rusby Band and more!