Darkness into light walk Clonmel 2020 will be taking place at Clonmel town sports complex/ Cashel road approximately 4:15am. It is a 5KM walk and is the same route as last year.
Hope to get as many people interested this year because it was a great turnout, everyone showed their love and support for a great cause last year #DIL2020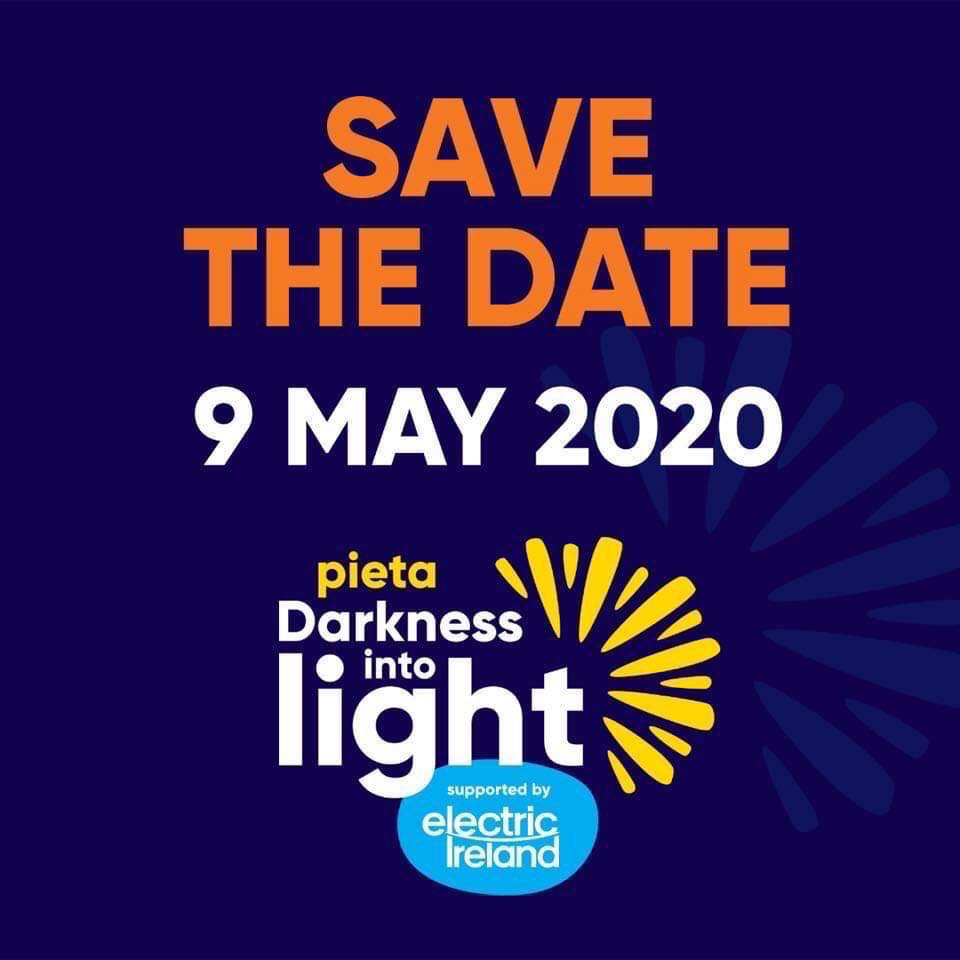 About Pieta House
In 2006, Pieta House opened its doors in Lucan, County Dublin and since that day we have seen and helped over 40,000 people in suicidal distress or engaging in self-harm, and established fifteen subsequent centres across Ireland.
From humble beginnings, Pieta House has grown to almost 270 therapists and administration staff, and the demand for our service hasn't let up. In 2018 alone, nearly 8,000 people came through our doors suffering from suicidal ideation and/or engaging in self-harm, or to avail of suicide bereavement counselling.
As it has been from day one, everything is free of charge and our staff are fully qualified and provide a professional one-to-one therapeutic service for people who are experiencing suicidal ideation, people who have attempted suicide and people who are engaging in self-harm. A doctor's referral or a psychiatric report is not required.
We're passionate about our life-saving work. As 90% of our income comes from fundraising events, we rely heavily on the support and encouragement of our volunteers and friends of Pieta.
Our flagship fundraiser, the phenomenon that is Darkness Into Light, an event that is almost entirely organised by our amazing volunteers continues to go from strength to strength. This unique event takes place just as we're coming into summer and our spirits are being lifted. Hundreds of thousands of people have woken in the small hours of the morning and taken part in Darkness Into Light to date, and each year it touches the lives of many more in venues across the world.
Darkness Into Light is very much about hope and hope is something we endeavour to give each person who comes to us in their time of need. We help them feel more hopeful about the future as we continue to tackle the grave issue of suicide and self-harm in Ireland.

Pieta House also operates the Suicide Bereavement Counselling centres that had previously been operated by Console. We provide free counselling, therapy and support to individuals, couples, families and children who have been bereaved by suicide. We also offer a Suicide Bereavement Liaison Service and the Freecall 24/7 suicide helpline 1800 247 247. For more information, click here.