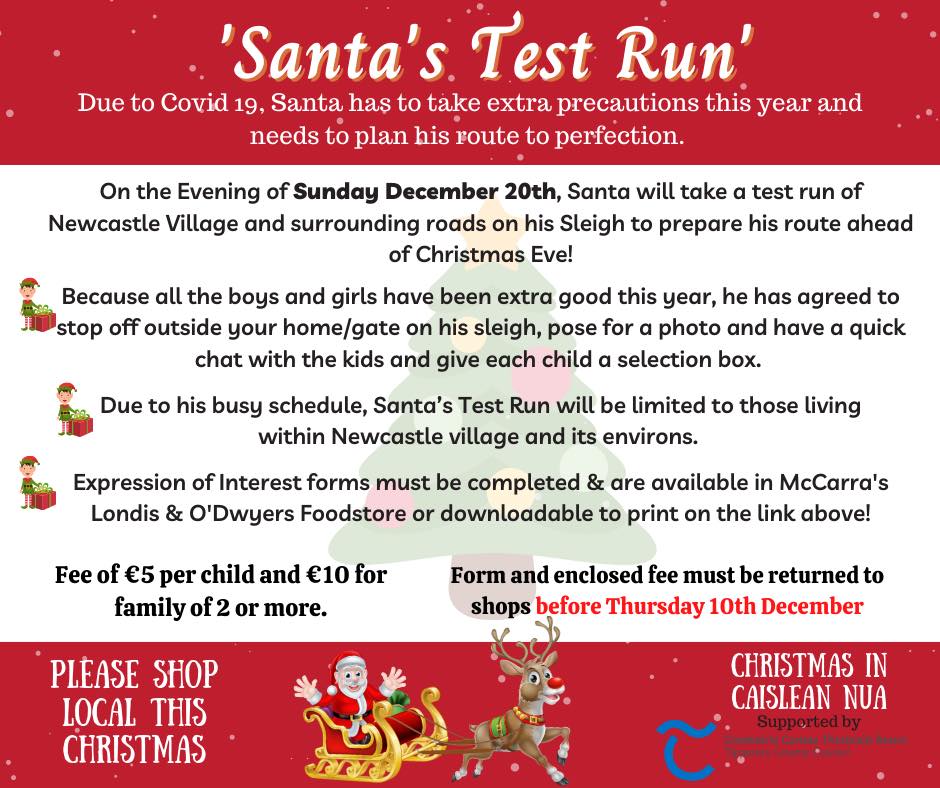 Due to Covid 19, Santa has to take extra precautions this year and needs to plan his route to perfection…
So Santa will be taking a Test Run on his sleigh through the village of Newcastle and approach roads on the evening of Sunday, December 20th! Because all of our kids have been extra good this year, Santa has agreed to stop off outside children's houses in his sleigh and have a quick chat. The Reindeers will, of course, be resting up ahead of their big day so Santa has borrowed the community tractor instead to pull the Sleigh built by our local CE scheme workers!
Santa will have a quick chat and small treat of a Selection Box to give to each kid. Due to his busy schedule on Christmas Week, his visits on the night are limited to houses in Newcastle village and its environs!To arrange a visit, please complete an expression of interest form and return to McCarra's Londis or O'Dwyers Foodstore before Thursday 10th December to make sure Santa knows that you will be home. To help his elves, we ask that you could return this form as soon as possible!You can download and print a form on the link below and papers copies will be available to fill in in the two shops from this evening!
A small fee of €5 per child or €10 for 2 or more children will apply and all proceeds will go to the running of the event and other projects across Newcastle. We're so excited to have Santa paying our boys and girls a very special visit this year and we can't wait to see him before the big day.
Ho Ho Ho!
Download the form here: https://docs.google.com/…/2PACX-1vTc2kKqB…/pub
PS. Any volunteers to join Santa's team of Elves over the next few weeks would be welcomed! Text the page or contact Máirin on 0872722236!